Reviews
Ed & Lory Sevillena
"Khader is terrific!!! It's been almost five years since our wedding and people still say our wedding reception is the best they ever attended! Thanks in large part to Khader's mad DJ'ing skills! Everything he played was right on the money! He honored every music requests. His song list is
endless!! You name it, he had it! Guests were on the dance floor the entire night!! Khader knew just the right songs to play to get the crowd up and moving. His music kept everyone dancing and when the evening came to a close, people kept asking for more!! Our guest could not get enough! Everyone had so much fun! We would definitely recommend K. Yanni Productions to anyone looking to have a great party atmosphere for any occasion, from a corporate party to weddings and other celebrations. Khader is talented, professional, and just a REAL nice guy!! Khader, thank you from the bottom of our hearts for making our wedding an event to remember."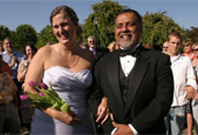 Lois & Joel Vega
"We thought you were really professional and did an excellent job keeping everything flowing well throughout the reception. You are very talented and we enjoyed the care you took to include some of Joel's favorites by Vicente as well!! Thank you for helping make our day exceptional."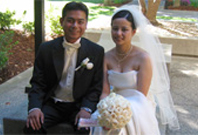 Sant & Ivy Asuncion
"DJ Kidd did a wonderful job with our wedding back in 2006. I love the enthusiasm and his eagerness to do this event. Two weeks prior, with his experience of doing numerous wedding, he was well prepared in providing us his professional opinion. He was very helpful in
formulating our thoughts into tentative schedule and was always accommodating to our busy schedule. Pronouncing the entourage's name correctly was his utmost concern. The day of the wedding went smoothly as planned. He was punctual and had the guest entertained through out the night. He kept the guest on the dance floor, dancing the night away making it an unforgettable night for the both of us. I would definitely hire him again for his professionalism."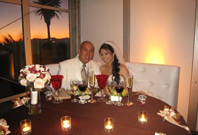 Chris & Phyllis Sales
"KYanni Productions did our wedding on 10/3 and if we could give them a rating of more than 5 stars for the work they did for us, we would!
When we first contacted Khader to be our DJ, he e-mailed us his song list as well as a questionnaire as to what songs
we might want for things like our first dance, father-daughter dance, etc. When we met with him in person to go over everything, he first listened to our ideas and then asked questions on aspects of the reception we had overlooked. He even gave us ideas on the order of how the reception could go to help everything flow smoothly, especially keeping in mind the timelines of our photographer and videographer. We could see that he had experience with dealing with big weddings like the one we had.
Khader's song selection is great. If he doesn't have the song you need, you can be rest-assured that he'll get it for you in time for your big day. My cousin sang a solo at the reception and couldn't find a version of the song without the vocals. Khader worked on the music the week before the wedding to come up with a version she could work with! That's going above and beyond what you would expect a DJ to do.
Aside from the song selection, Khader was also helpful in advising us of our lighting options as well. He would show us different ideas and was honest about how much each element would cost if we were to add them. He even helped with getting us our monogram which everyone agreed was a nice addition to the ambiance of the reception.
Khader's brother, Hanna, was an excellent MC. Some people butcher the pronunciations of last names, but he made sure to follow-up with me prior to the wedding day to go over the names of all the members of our bridal party to make sure he had them phonetically right. He did a fantastic job at keeping things running smoothly during the wedding reception. Not only did he serve as an MC but he also played the role of a wedding coordinator that night! He made sure to work with our timeline and keep things flowing. Beyond that he constantly checked in with us throughout the night to make sure that we were stress-free and enjoying our reception.
Khader aka DJ Kidd kept the beats going all night. One sure way to see if your guests are enjoying the party is to see if they're out there on the dance floor. There wasn't a time that the dance floor was empty! Our guests are still raving about how good the music was that night and what a great time they had. :)
We would recommend Khader and Hanna's DJ and MC services to anyone, hands-down. Hire them and you'll know you'll have one less headache in your wedding planning.
Khader and Hanna -- There aren't enough words to express our gratitude to the both of you for making our wedding reception one to remember! Thanks again for everything!"